Inboard handle

Concept:
Distance between the blade side of the collar and the end of the oar handle.
The Outboard handle is defined as the Oar length minus the Inboard handle.
Sizes:
Measured in centimeters. Sweep oar: 106cm – 124cm Scull oar: 78cm – 95cm
Effect:

| | |
| --- | --- |
| + | Inboard handle longer, oar gets lighter. |
| – | Inboard handle shorter, oar gets heavier. |

Measure:
There are basically two ways to adjust the inboard handle:
1. by lengthening or shortening the oar, this only changes the inboard handle;
2. by moving the collar, this changes both the inboard and outboard handle.
The second method has about 50% more effect: when the collar is shifted 1cm, the oar has to be lengthened by 1.5cm, to get the same effect.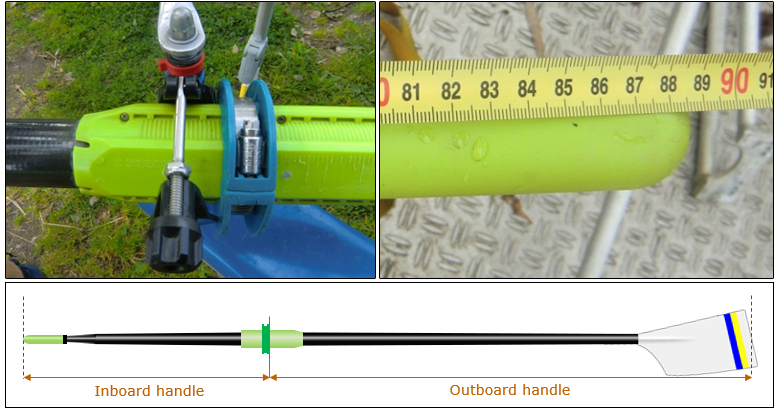 Adjust:
Adjusting the collar is done by loosening the clamping screw, adjusting the collar, and tightening the clamping screw again.
---
| | |
| --- | --- |
| | Oar length |
| | Gearing |
This article was translated automatically and is provided to you for free. You are most welcome to improve it!