General – Incorrect oarlock height

Mistake:
The snap-on washers on the oarlock pin are not at the correct height and/or the boat is not properly rigged for the rower.
Observe:
Put the rower in the finish position:
Trunk: see if the rower does not lay back too much or too little;
Blade: see if the blade(s) is/are fully covered;
Hands: Look if and where the hands touch the body. In sculling look at how far apart the hands are.
Cause:
The rower has not learned how set to oarlock height properly or has forgotten it. The boat is not suited for the rower or rigged wrong.
Conse-
quence:
The draw cannot be optimized, the rower cannot finish properly (too low) or pulls beyond his control (too high).
Remedy
boat:
Move the snap-on washers up or down. If the oarlocks are too high, place the snap-on  washers above the oarlock. When they are too low, place the washers under the oarlock. The snap-on washers are most easily removed from the oarlock pin by pressing both outer ends with index and middle fingers, as shown in the last photo.
Feed-
back:
When sculling, the handles are drawn just below the nipples to the chest. In sweep rowing this applies to the outer hand.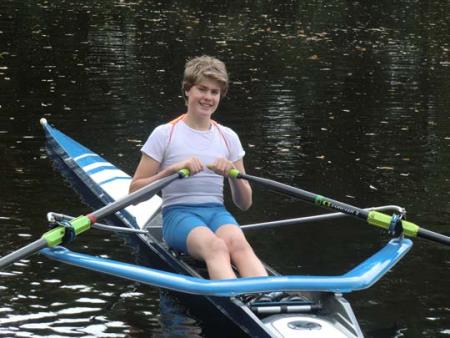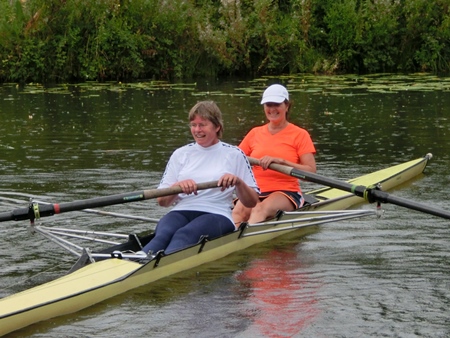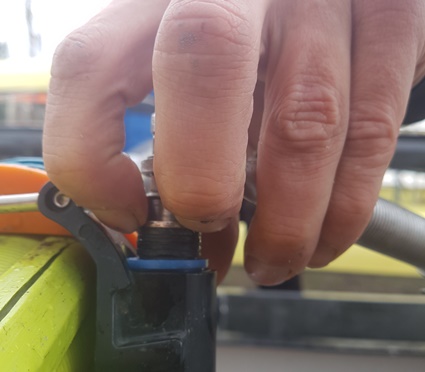 ---
| | |
| --- | --- |
| | General – Foot stretcher not set correctly |
| | Finish – Washing out |
This article was translated automatically and is provided to you for free. You are most welcome to improve it!